Note: Our Vacation was July 20th-28th. This will come in three parts July 20th-24th and the 25th-26th and July 27th-28th.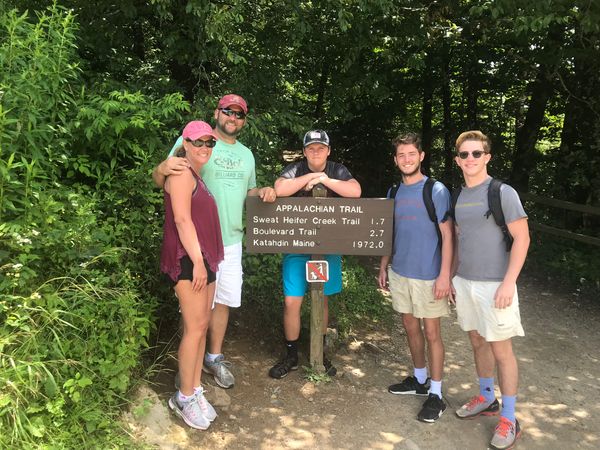 Pull up a seat.  Grab some coffee.  Kick back. Might be a long read. But I guarantee you'll have visions of National Lampoons all the way through this script. Swim for a few minutes in my misery. Well, not just my misery, but the four others who (as I am writing this paragraph) are currently sleeping in the camper. All of whom have danced softly around this campsite in the last day or so in fear of possibly breaking something small--maybe knocking over an insignificant something--- but enough to send me over the edge.  
First, this is all true. The names havent changed.  And I swear to you, we have really had a good time...in between the storms. (by the way, thats the title of the song I have been writing. Coming soon.)  But as things began to pile up midway through our "vacation" I felt  I needed to document this comedy of errors just so we can have it for years to come. I hope you enjoy. 
The Plan
So, we bought a camper a few years ago.  It was a great idea at first. And actually has turned out to be a good investment. But, theres a lot of work that goes into planning a vacation with a camper. If you can find the right spots, it can be better than any hotel or condo. You can take your "house" anywhere.                        We wanted something memorable.  We tossed around ideas of traveling out west, northwest and even up the east coast. But ultimately, we felt like a beach and Smoky Mountain combo would be perfect.  And with that, we opted for a loop from Birmingham, Al to Savannah to Bryson City North Carolina to Desoto State Park and back home. One week. The perfect vacation.  Well, the trip broke down before it even began.  I had already planned the locations but in the midst of checking off the list of things to piece together, I failed to check the school band camp calendar...and a karate tournament. So Vivi and Eli sat this one out. I promised them we would take them on a separate vacation when we returned. So the alternate plan was for Augusta, Alex, Blake, Ethan and myself to make the journey across the Southeast US.
Friday, July 20th. The second longest day ever.
Augusta had to work. That left me to make sure everything was packed in the camper and ready to go. I had a show to play in Gadsden that night so we had planned on leaving from Gadsden after the show. But she didnt get off work until 5:00. That meant I would carry everything, (INCLUDING 3 DOGS)  and she would drive to Gadsden after work. Simple enough. Wrong. Just as we were wrapping up the packing we got a call from the Real Estate Agent that someone was wanting to view the house (Its for sale). They wanted to view it right then.  Which meant, pick up the pace and pack faster.  While packing, IN A HURRY, I didnt pack Augusta's clothes because she said, (and I quote...) "Just leave my stuff and I'll pack it when I get off work".  She said that. But, for some reason, she ASSUMED that I packed all her clothes that were hanging up in the closet. Now folks, I hate playing the blame game.  But you can clearly see that this is not my fault. Try to picture the chaos that ensued after the Real Estate phone call. I was packing things I had no intention of using on this trip. Grabbing dogs, tossing them in the truck with me and Ethan. Dog food, Crates, luggage, bug spray, Generator, OH and ALL MY Music Gear...you get the idea. But nowhere to be found were Augusta's Clothes BECAUSE SHE SAID SHE WOULD GET HER CLOTHES.
Ill come back to this later.
3:00 p.m. Ethan and I pull out with an over-loaded Camper. Blake has Alex's car in Tuscaloosa. Eli is currently at the Karate tournament winning a gold medal.  Alex is stranded at the house, hiding somewhere from the prospective home buyers viewing our home, waiting on Augusta to get off work. 3 Dogs are stuffed in a packed truck panicking on their way to be boarded at my brother's house 1 hour away.   Maggie, our lab, we discover is not the least bit excited about our current situation.  In fact, we soon learn that she has quite the phobia of traveling. Big dog doesnt like the back seat. We fought with her while swerving all over I-59 with that big ass camper to the point that we finally just let her do her thing whatever it was just so she would calm down. And that was to be curled up underneath the passenger seat in fetal position. So poor Ethan ended up with two poodles in his lap and a shaking lab underneath his legs all the way to Jon's house where we left them to be boarded.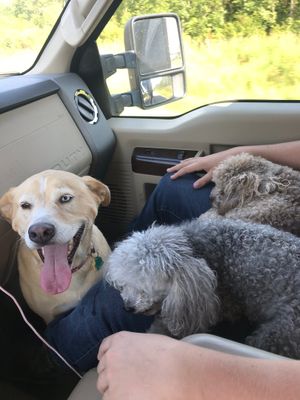 11:00 p.m. Craig Pruett and I finish the show at Little Bridge Marina. By this time, Augusta, Alex and Blake had already made the drive with the rest of their luggage (uh...most of it) and we are set to go. Except that I cant carry the all the music gear with us. So we load up all my stuff in Craig's car for him to hang on to while we are gone. Does any of that sound hectic? We pull out, sometime around midnight on our way to a Morrow, Georgia Walmart Parking lot to stop for the night.  We arrive at about 4:30 am and set up right next to something dead right outside the camper. We never found what it was, but Dear God...it was horrid.  We crank up the generator, open up the slides, turn on the air and get ready to sleep for a few hours. 
Except...
"Robert, did you pack my clothes that were hanging up?"  I froze. Eyes wide open, realizing what the next few minutes would look like. Gentlemen. We have all had that moment where you know you arent necessarily to blame for something, but you are going to get feel the burn of a hot, fire breathing, scolding wife regardless. This was that moment. It was pretty much ALL her clothes. Shirts, more shirts and...yeah...pretty much everything.  Not sure how the communication broke down, but lets just say she was mad. I took it on the chin like a man.                 
Not really. Im not going to lie, I squared the blame directly back at her which was probably not the best thing to do.  
The boys slept through the raging storm. (both metaphorically and literally)  Augusta and I managed to get the antennae working enough to see that a category 5 thunderstorm was bearing down on us and we were just sitting ducks.  
Saturday, July 21st The Longest Day Ever.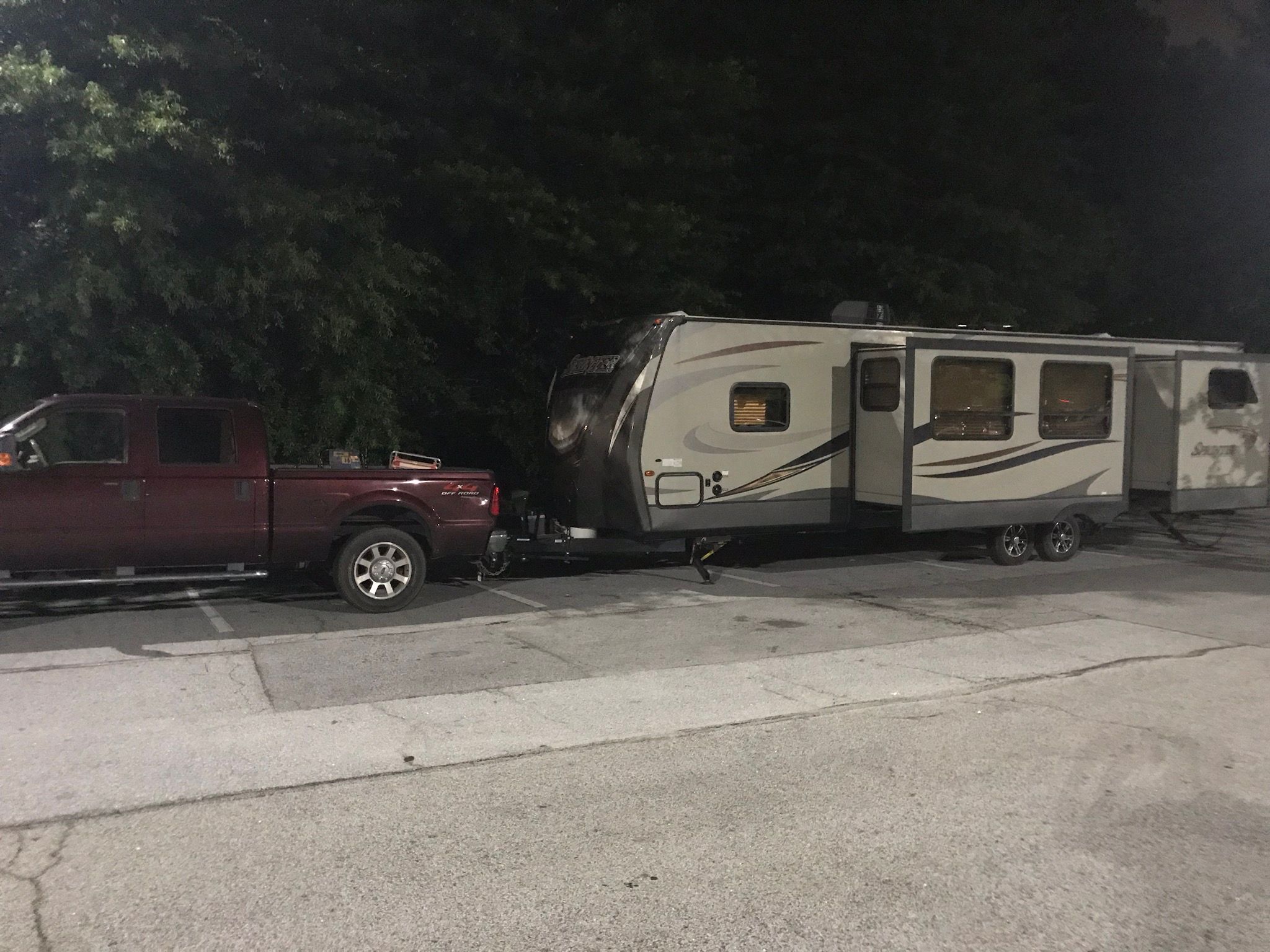 8:00 am.  The generator runs out of gas.  And I failed to mention that we couldnt get the dome light to go out of the truck the night before, so that morning I was still nervous about whether or not the truck would crank.  But it did.  I was still in my clothes from the night before. Sweaty. My oily hair was glistening in the sunlight as we marched across the Walmart parking lot to buy Augusta some vacation clothes.  I posted a small video of her walking in misery as she weaved in and out the aisles trying to locate the clothes she would be wearing for the rest of our fabulous journey.  I tried to make light of it. But it was no avail. She wasnt happy about it.
9:30 am We wake up the boys and close everything up and head for breakfast in Walmart at McDonalds. We are told by the cashier that we cant order anything with eggs. Because...and I quote... "they in a bad mood. Can you just order something else".  So. We order something else. Without eggs. Im not sure why the hell we couldnt order anything with eggs. No egg McMuffin. No Sausage Egg McGriddle. Beats the hell out of me. But we managed to fill our stomachs full. Ethan is probably not going to be happy that I am about tell this story. But I am anyway. You see, it doesnt matter where we are, what kind of toilet is nearby or who you are, if he's gotta use it.  Hes going in and he will take his sweet precious time until he is done. And theres nothing you can do about hurrying him up.
11:30 am. We hit the road to Savannah Georgia. Keep in mind. Our truck is full of people. The bed of the truck has a HUGE generator in it, along with more camping supplies than we should have ever considered carrying.  The camper is LOADED down. Its heavy. BIGLY. And we have several hours to go on I-75 South to I-16 and eventually to this campground I picked out.  When we finally arrive at Red Gate Campground in Savannah, I discover that its not what I had pictured. In my head, the campsite would be nestled between two beautiful oaks with that signature Savannah moss drooping from the leaves while overlooking a peaceful lake.
Nope. HUUUGE open field with not a single tree around. Plenty of sun. Our Awning was useless too, since it was facing the afternoon sun.  Now this camper is a good one. Dont get me wrong. I love our camper. Its big. Plenty of space. We have every amenity we could ever want in the big momma. But it just seems like theres a hex that exists around the time we always set up. Something always happens. And like clockwork, we get her positioned just right and leveled and begin opening the slide. And POP!! Something breaks. I had heard that sound before and it had cost me some money to have it fixed. It was the cable. It utlimately cripples the camper because you cant take a half open slide down the road. We were essentially crippled in Savannah until I could find someone who could come out and fix it.  This single event dominated the rest of the evening. Phone calls, trying to fix that stupid thing ourselves. I made the boys climb up there and look to see what they could do because my fat ass couldnt squeeze anywhere near the problem.  It is not in the most convenient location. We were all defeated.  And tired. And Ill. And already sick of the issues we had already encountered.  I felt responsible for every moment of disgust on their faces.  And like Clark Griswold, I was determined to make sure they were having a good time. So I felt like taking an evening trip to downtown Savannah would cure it all.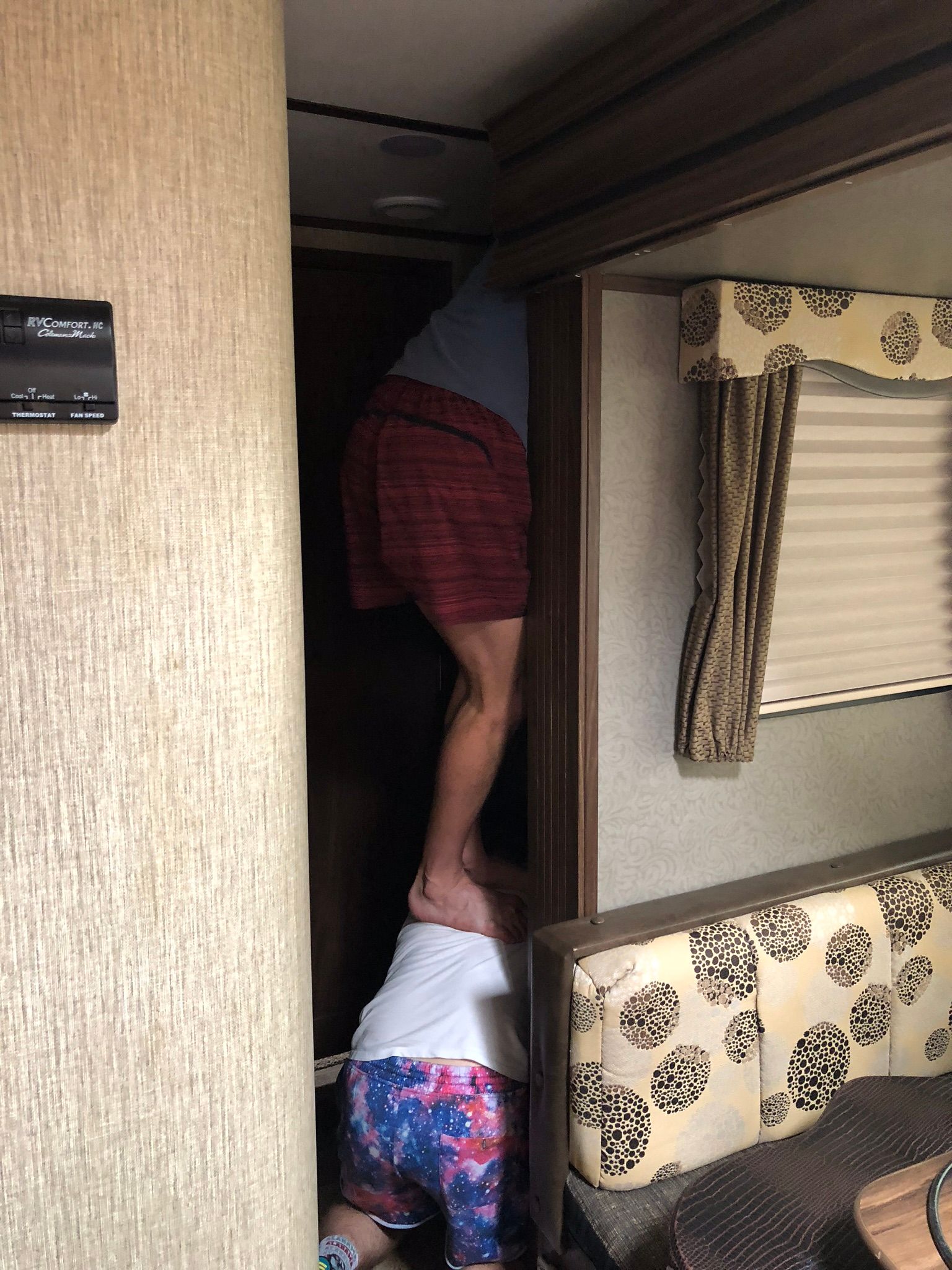 7:00 pm. The iPhone GPS is not always reliable. It took us through a part of town that we had no business driving through on the way. I mean, we were not on the highway at all. Im not completely sure, but I think we drove through someones backyard trying to find the main road. We finally made it to downtown and admired how beautiful Savannah is. I felt relieved. I felt like I had done something right. We just needed to find the perfect parking place. Now, my truck is a pretty good sized F250. Parking that baby has never been easy. Just ask Alex, who conveniently left me a watermelon sized dented imprint of someones mailbox on my back fender from a few weeks earlier.  Its difficult to park. And parking on a street is difficult. But parking in a parking deck is even MORE difficult.
Thats when we spotted the parking deck.  It read 6'6".  Does anyone ever measure the height of their vehicle. Hell no. And neither did I.  I didnt notice any bars hanging down and we drove in but I figured if I can make it though the first beam, then we're good.  Now, at this time, everyone was getting nervous, including me, but we were already past the point of no return. The passages were getting more narrow and I began to realize that we were going to have one hell of a time just trying to squeeze in a parking spot. Much less, trying to pass underneath beams so low that I could touch them with my hand out the window.
I dont know at what point I realized this was like..the worst Idea ever. But it finally hit me on about the 3rd level that not only were we not going to be able to squeeze into a park, but we also might not get out. Its a bad feeling. And its surprisingly a claustrophobic kind of feeling.  I remember taking the exit ramp off that 3rd level thinking, "we arent going to make it".  Mostly because I could see the beam as we headed down and it was LOOOWW. To make matters worse, the beam sat squarely over the bottom of the ramp which mean the angle of my truck would be positioned such that the cab of the truck would be elevated into the beam.  As we inched closer, the tension was high. We all knew was about to take place.  I had no choice. I had to press forward.  And as expected we mashed the hell out the the roof of my truck. It was loud, painful to listen to.
Worse than anything, I knew it wasnt over. We still had two more levels to go.  Because this parking deck was so full and so narrow, it wasnt like we could pull over and sit and think things through. NO. We had to keep going. So we made our round to the next ramp. By this time, it seemed like everyone in Savannah was lined up behind me as we made our way toward the second exit ramp. I slowly made my way down the ramp and realized that this beam was lower than the first. It was so low that I was afraid that not only could it hit our windshield, we might get it wedged in permanently!  So I politely got out and asked everyone to back up. This was not a welcomed gesture in a crowded parking garage in Downtown Savannah on a Saturday night. One by one, they all backed up. And so did I. Miraculously into an abandoned spot directly behind us.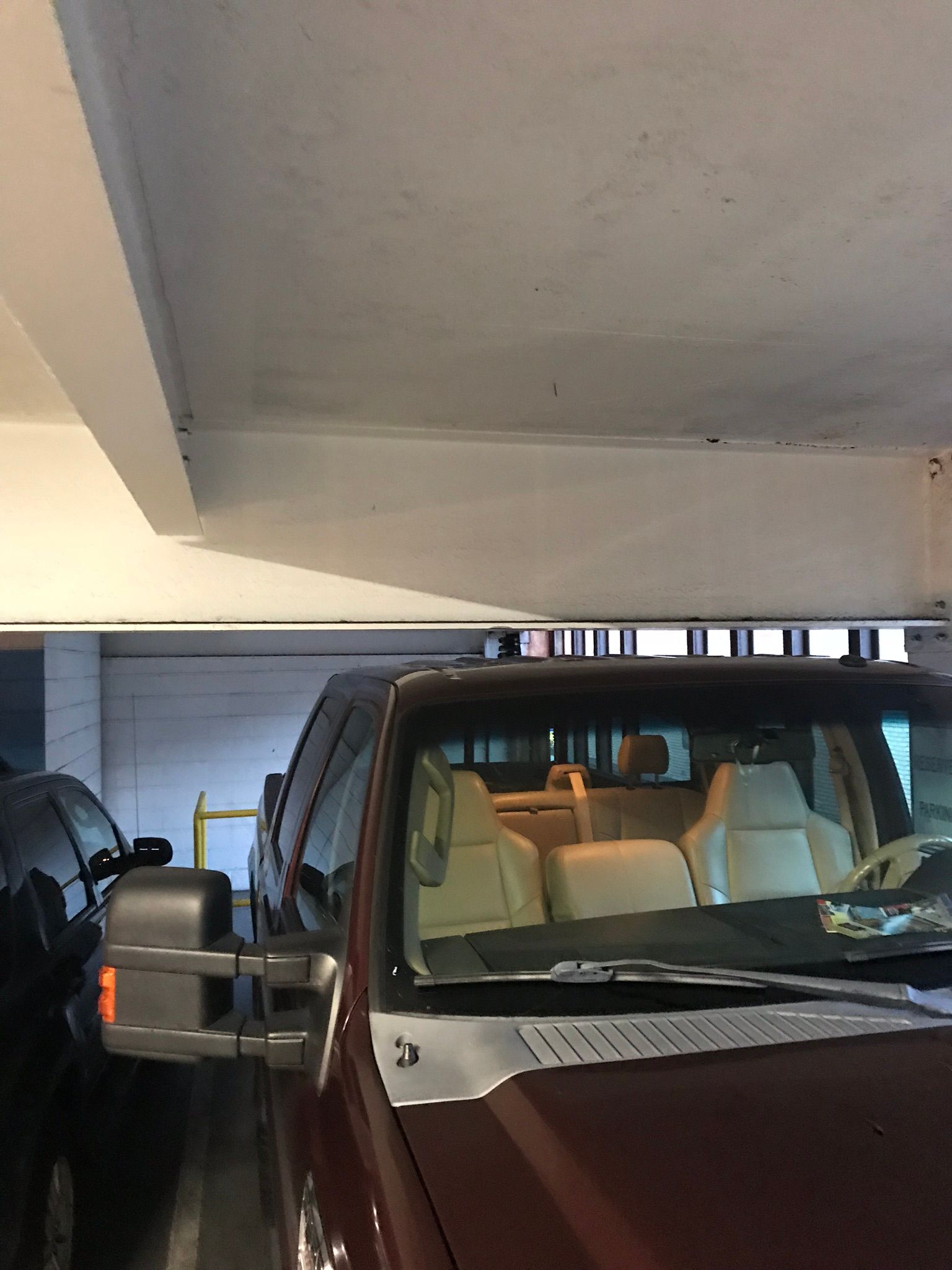 We managed to get out of the truck and decided to walk to the Riverwalk, smile and take some pictures and collect our thoughts while visiting downtown. We were ill. We were hungry. And the Clark in me was trying to make the best out of a terrible situation.  We managed to find the most expensive restaurant downtown and sat down to order. I didnt care the cost at this point, we all knew what was ahead of us. That last beam.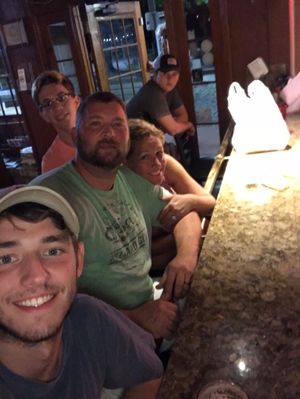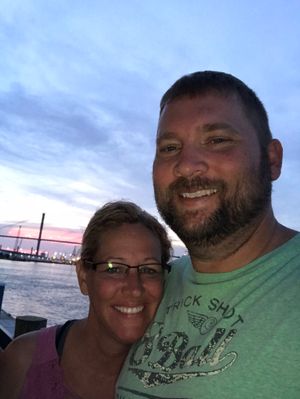 After a few hours of visiting downtown, we decided to walk back and got lost on the way. I have no idea where the hell we were going, but it was no doubt in the wrong direction.  About a half an hour later, we managed to make our way back to the truck. By this time, we had formulated a genius plan and decided to let as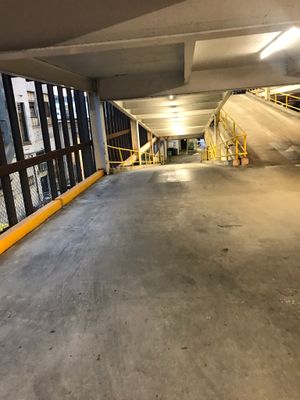 much air out of the tires as possible and have everyone sit on the tailgate.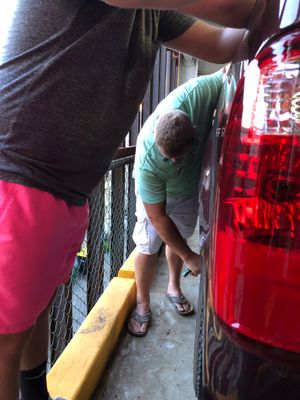 Which, in retrospect, was even dumber than anything else I had done that day. Because all it did was pitch the end of the truck that wanted lower---SEVERAL INCHES HIGHER. Think about it--If you sit on a tailgate, it will lower the bed of the truck. NOT THE CAB. Why the hell we didnt stay in the cab, I don't know.  I put her in drive and we hit that beam with enough force to bring the parking deck down...not to mention with everyone in the back of the truck!  Geez. you might have seen the video. I was sooo defeated, angry, upset.. you name it. Fortunately, the final beam was much higher. We took our flat-tired, beat up truck to the nearest gas station to pump it up. The Air pump machine took our $1.25, laughed at us, and shut off before we could get it to pump. I was so frustrated, I didnt care at this point, I just decided to make the 5 mile drive back to the camp with flat tires.  We had a pump back at the camp. 
Fun Fact: We made it to camp and had a drink. Or two. In a broken camper. 
Sunday, July 22nd Tybee Island
We were told that the repair guy would be there to fix our camper that morning. I was confident that these people who I didnt know could get in there and fix it. They were from South Carolina, so had to make a bit of a drive, but assured me that they could handle it. So in the meantime Augusta, Ethan and I decided to check out the fishing pond and visit the horses. This part was very enjoyable. They had a nice fishing pier, a $hit ton of baby bream and like...6000 turtles. We were not going to catch a fish. But it wasnt for trying. Ethan has a real knack for impatient fishing. If it doesnt bite on the first cast, he is ready to try another lure. Or different bait. Which, by the way, we were TOTALLY unprepared.  We had no live bait. We tried other things though...like...cheese puffs and smoked cajun sausage.  That didnt seem to work for some reason.  We finally gave up after about 700 casts and made our way back to the camper.
These guys fixing the camper...oh my. They werent prepared to fix this cable. And they charged by the hour for their inexperience. They finally got it repaired and we were all happy and they opened it open and it snapped off again. By this time it was 105 degrees and we were just gonna have to leave them there at the camper while we went to the beach. I was not going to spend our vacation waiting on them to fix it. 
Tybee Island is pretty. But Ill take any section of the Gulf over Tybee any day. (read about my previous Tybee Island Disaster experience here) And the sand...That sand was hotter than a blistering hell and it seemed like we would never get to the waters edge to cool off our feet.  When we finally arrived, we discovered that the murky waters from the river empty just a few miles away. The friends that we made next to us on the beach told us that the water was murkier than normal. Hopefully that is the case.  The ocean was brown. Ultimately, we made the most of it and enjoyed several hours of beach time with the boys and decided to head back after we had depleted all the contents in our cooler.
The rest of the day was spent fishing, swimming in the pool back at the camp site, hanging with the horses and enjoying some down time. Oh. Did I mention fishing. While Augusta and I were relaxing in the pool, the boys were all fishing. And completely unsuccessful I might add. Another 700 casts. No fish. LOL. More about this later...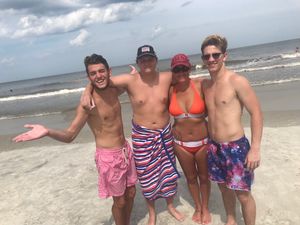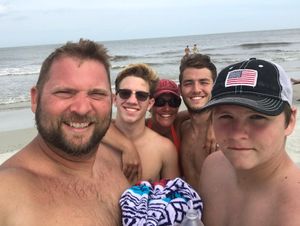 A bit of good news: I discovered Sonic's Pickle Slushies. Worth the try. ;)
Monday, July 23rd Bryson City, North Carolina
We woke up that morning and headed out.  Completely uneventful drive. Ok. Not really. I knew at some point we were going to have to climb into the Smokies with a big ass camper. I didnt know when. But man, what a climb.  We hit it somewhere around Asheville and that old dented up truck of mine handled that mountain like a champ.  Her name, by the way is Bessie.  And Bessie had every reason to curse me going into the Great Smoky Mountains. But she didnt.  We passed an unfortunate school bus that had over-heated on the way up and we just counted our blessings as we finally made it to the top.
Our campsite at Ela Campground was fantastic. As opposed to Red Gate, this was much better than pictured. I highly recommend it. Nice people. Great atmosphere there. The sites back up to the Tuckaseegee River and it truly is majestic.  Much of our prep time for this trip was for the fishing. I had never been fly fishing and was excited to try my hand at it. Blake and I watched several Youtube videos prior to going on vacation, which of course meant we were experts by the time we arrived.  Wrong. We probably got tangled up in the trees a dozen times.  There was a nice old man two spots down reeling in Bass and whatever the hell else he wanted to catch and a 9 year old kid down the embankment catching trout with bread. Our boys=nothing. 3 days, 2000 casts. Nothing but trees, boulders, logs and a pounds of earthworms who were seemingly murdered for no reason. 
The boys also enjoyed drifting down the river in tubes.  Except that for that brief moment when Alex dropped his phone in the water.  He was able to retrieve it, but it was too late. The damage was done. And to a 17 year old with no phone, on vacation, out of town, away from civilization,  this was the greatest disaster of all. Of course, Augusta surrendered her phone for the duration of the trip, so he could have contact with snapchat. You know. The essentials. 
The rest of the day was spent relaxing around the camp, playing a few games and yelling at each other every now and then.  All in all, this was the only day that didnt have disaster written all over it.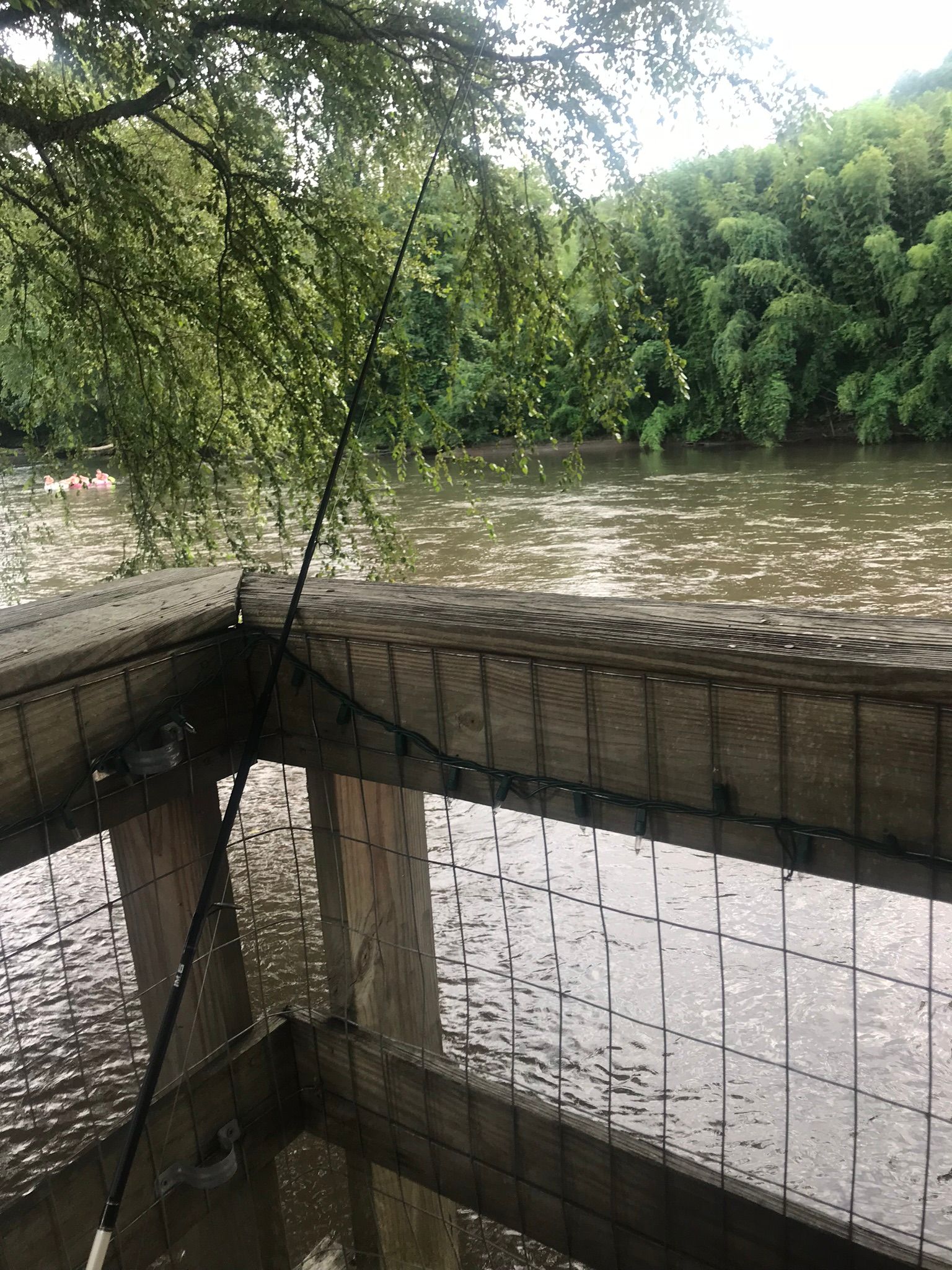 Fun fact: Augusta snored loud enough that night to keep the bears away.
Tuesday, July 24th- Captain Augusta. Professional Fishermen. And Sewage.
9:00 am. Great Sleep. Huge Breakfast.  Great day ahead. We decided to make this day our fishing day and Tubing Day.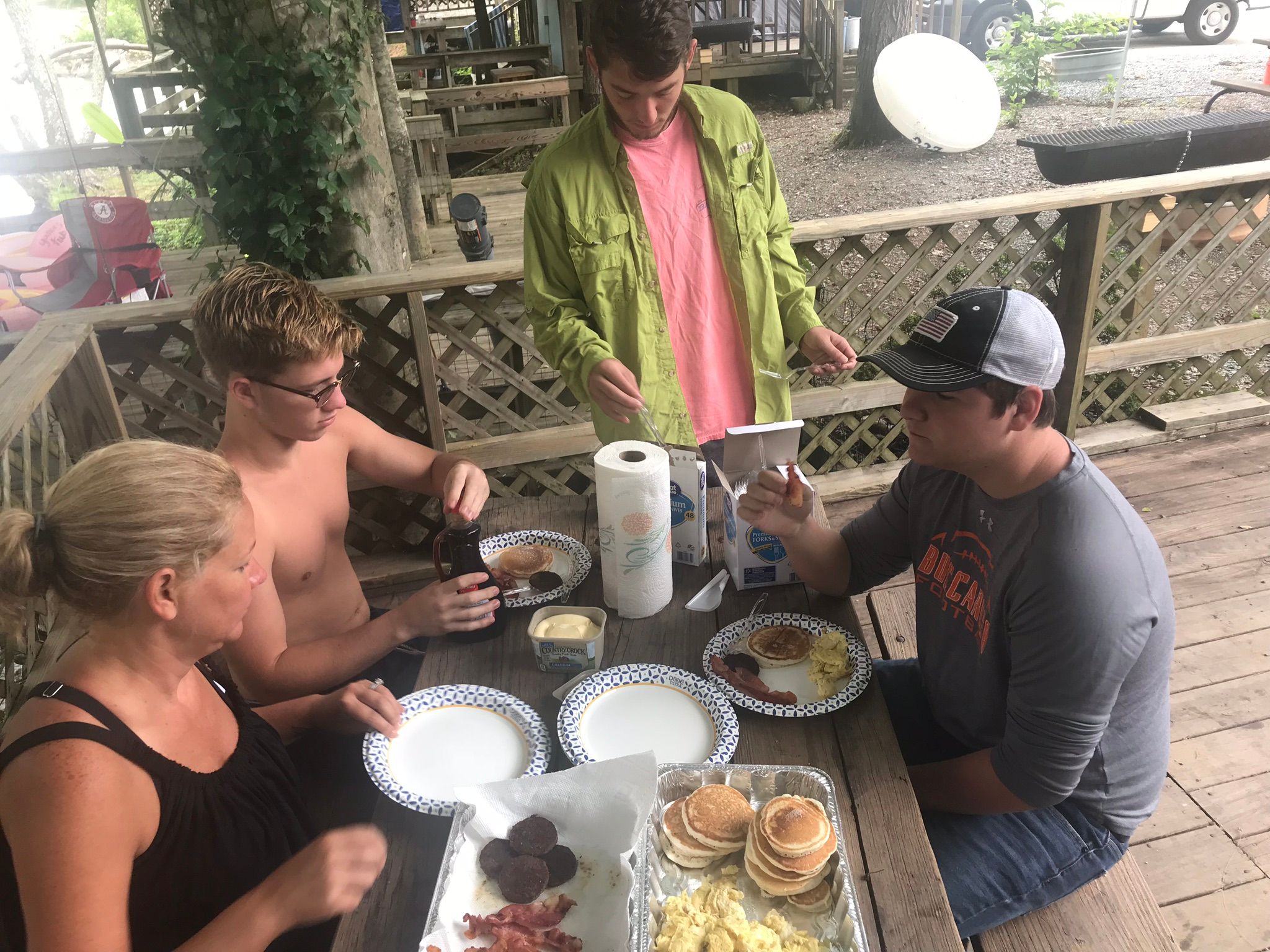 Tubing First.  Augusta has begged me for hundreds of years to take her tubing. And in the midst of my perfect vacation planning, I made sure we were in a location were tubing down a nice steady stream was nearby. The Ocanoluftee River was the perfect river. We made it to the outfitter and signed the waivers, jumped on the bus and headed out!
As you could expect the water is cold. The air temperature was chilly that morning as well. But not too bad. The real unexpected thing was that Augusta's arms didnt quite reach the water around her tube. I dont know if she just has short arms or is she was in a fat tube. But for whatever reason, her fingertips gently graced the water and...that was about it. I dont know if you have ever been tubing, but this is an unfortunate disability in the water when tubing.  You still have to navigate, which unfortunately is something Augusta wasnt prepared for.
As we (The guys) made our way into the water, we were having a good time back and forth across the gentle rapids, following the course of the river, becoming one with the water. Meanwhile, Augusta is having one hell of a nightmare trying to not only catch up, but to also figure out how the hell to get off the rocks she kept landing on. ONE AFTER ANOTHER. While we were all having a good time, spinning in place, splashing each other---you know. FUN STUFF, Augusta is cursing every other breath as her fingertips skirt across the water while slamming into every obstacle---every barrier possible. She got caught in every eddy she possibly could while trying to catch up, splashing in place. 
I dont know how it is humanly possible to navigate a stream as poorly as she did, but it was hard to watch. I slowed down as often as I could to help her.  I would say, "Augusta, just follow me". And she would try. And she would not follow me. And she would end up on the only boulder in the middle of the damn river while the rest of us were scratching our heads, wondering the the crap is that woman doing?  She somehow managed to square up the only bridge pylon in water. There was like 100 yards of water and one bridge pylon. She hit it. Right in the middle. We shouldnt have laughed. But we did. Poor girl.  
I stayed with her most of the way just to ensure that she didnt go off and find some mysteriously hidden waterfall somewhere and go flying into the abyss. We finally made it to the wrong take out and had to hike another hundred yards to the bus where everyone (Including the other group who was with us) was waiting.  She still has bruises from rocks, trees, and everything else that was sticking out of the water. We made our way back to Ole Bessie and headed to the camp for part II of our day which was to catch some fish. Finally.
I know it sounds crazy. But if you first dont succeed, try...try again. We were to the breaking point on this whole fishing thing. We were soooo prepared. Youtube tutorials, various web sites, the idea of catching trout on a fly rod was just awesome.  Well. It didnt happen.  We were so frustrated. What are the freaking odds of spending days and countless hours casting a line and not a single fish.  We decided to try another area and headed down about a half mile to a spot where we were sure to catch something (according to some locals). LOL. Nope. Not even a bite. We finally gave up. 
As we were leaving I spotted a sign. It was like the heavens opened up and shined down a golden ray of light on this one sign that stood out above all the others.  "Trout Farm 3.5 Miles"  No one saw this glistening light from the Fish Gods but me apparently. I hit the brakes and abruptly turned left without warning, CLARK GRISWOLD JR. Was going to be the freakin hero for once on this trip.
Seventy Five Freakin Dollars Later, we all caught some fish. In a fish pond. Where you are guaranteed to catch fish. But we didnt care. There were no trees around to catch our line, No rocks. (except for a waterfall Ethan somehow cast his line into and got it stuck). Just a worm on a hook and lots of hungry trout. And we were happy. And we caught several a piece. And I didnt care.  I paid the girl at the desk. They cleaned up those trout, and we headed back to camp proudly. with a big bag of trout. And we took pictures.  And we tossed them suckers in hot coals and ate them that night. And it was good.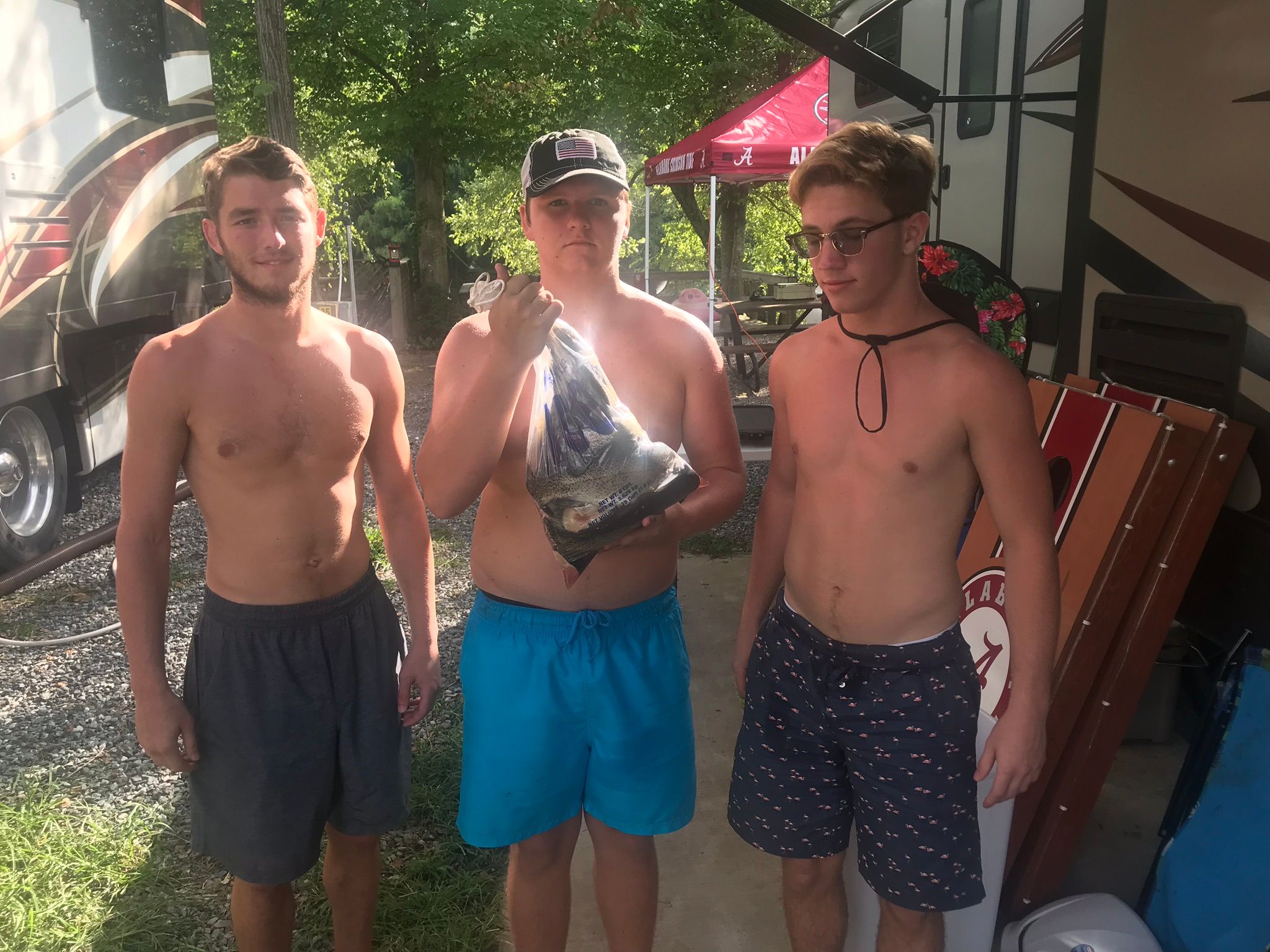 Now on a normal vacation, thats how the day ends. You have a fun day, you catch and eat the fish and then you sit around a campfire, tell a few stories and then go to bed. But no. Not us. Not the Abernathys.  As the rain began to fall that evening, we opened the windows to the fresh air and sat at the table to play some cards and we all smelled it.  All at once. There was something going on outside our camper and it wasnt pleasant at all. Augusta, our fearless innertube captain, made her way outside in the rain to figure out what was going on. I tried to ignore her because I knew when she yelled "Robert" it meant I was going to have to walk outside and fix a problem.  Sure enough, bubbling out of the ground was nasty sewage right outside our camper. It was so foul. Brown, filthy, nasty sewage.
I called the 1 800 Abernathy emergency hotline once again and had someone come out to rescue us from the odor. He couldnt snake out whatever was in that drain and promised to have someone come out the following morning. We closed the windows, listened to the rain and awaited yet another inevitable problem to be solved the next morning.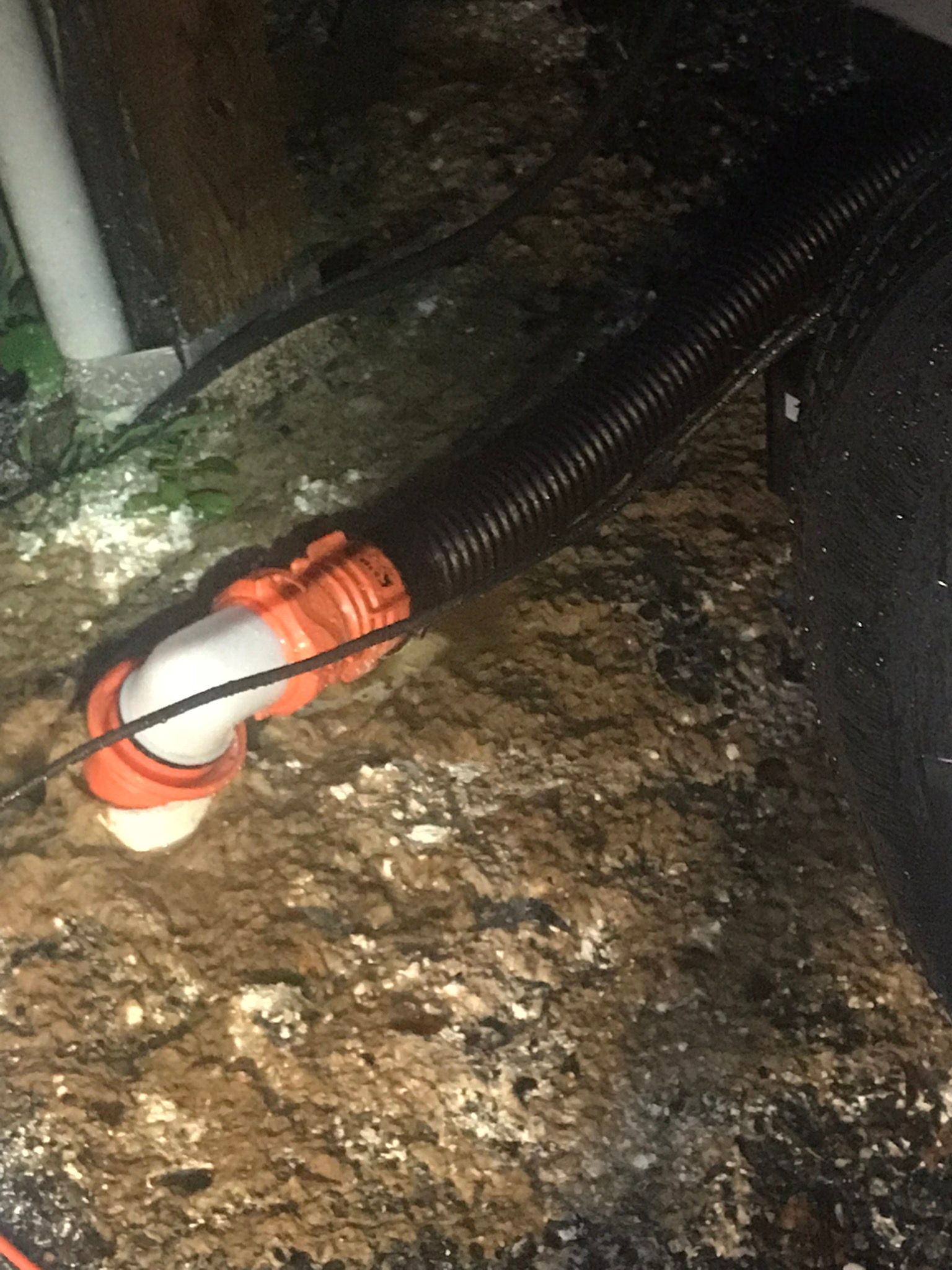 Fun Fact: Augusta Snored again pretty loud this night too.